Completing the World Marathon Majors is something I've wanted to do for a while. I did the London Marathon in 2015, and then Chicago in 2018. With two of the World Marathon Majors done, I'd still got another four to go: Berlin, Tokyo, Boston, and New York City. I've entered the ballot for Berlin and New York City several times; but was always unsuccessful. After four attempts at Berlin my luck finally changed: I got a place for 2020!
I was quick to book a hotel as close to the race start as I could whilst trying to keep it in a comparatively reasonable price range. As with other major city marathons, hotel prices can be considerable. It was then quite some time before I booked flights: I needed to come up with a plan for what else I was going to see. Having already seen most of Berlin during a few days in 2009 I decided that I wanted to see more of Germany's history. I compiled a list of every sight I could find that looked interesting, arranged them by region, and then plotted them all on a map. I found some of them were far from anything else, so maybe not a great choice if I wanted to maximise my time; yet there were some places I still really wanted to see. Places such as the Black Forest were removed from my list as I felt my time could be better spent elsewhere. In all honesty, I suspect the main reason it was on my list to start with was due to the cake they are famous for, Schwarzwälder Kirschtorte.
What I noticed though was that the sights were largely in a circle, with Hamburg and Dresden being either side of the loop. As Hamburg has a reasonable airport I decided that should be the end, so I would start with Dresden and work clockwise around. It took a couple of months to come up with a rough plan with timings for travel and sightseeing to determine how much time I'd need, but eventually I could book some flights. Whilst I was at it, I also booked a couple of tours for my time there as well to make some of the bits easier.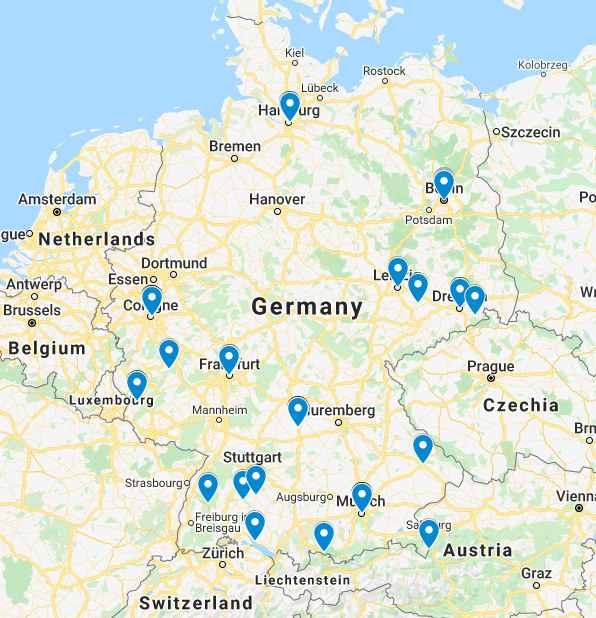 For travelling between cities I'd be relying on Germany's train network. Unfortunately it'd be some time until I could get tickets for those sorted. Maybe in some ways this was a good thing: the COVID-19 pandemic had emerged, and was on the verge of locking down countries, and would it be over in time for the trip? The wait for booking trains gave time to wait it out.
In April 2020, the German state of Berlin announced that it would not allow events of over 5,000 people before the end of October - too late for the marathon. Hours after this the race was postponed until September 2021. I'd got a whole extra year to replan the trip, and to train for this marathon. Other trips and races were cancelled as the year went on, and 2020 became a year that none of us who survived it will forget. As the new year arrived, there was the promise of vaccinations and the end of the pandemic, but it took half of the year to really see a difference, and with laxened rules and skeptics, it meant the virus was free to run rampant so further variants could evolve. It threatened the future we hoped for.
Even in July 2021, there were days when it wasn't clear whether the Berlin Marathon could or would go ahead. They did email though to say they were confident it would, with measures in place for testing and to allow the tested, recovered, and fully vaccinated to compete. I went ahead and booked my flights (directly with British Airways), and all of the trains (using bahn.de for digital tickets), and ensured my plans were as detailed as possible to allow for this change in circumstances with queues for social distancing in sights, and PCR/antigen testing before returning home. This was something I booked to be done by Centogene at Hamburg airport - it'd take 90 minutes to get a result. Some of the sights also needed bookings to be made beforehand.
There was more to think about, and more to book - but it wasn't insurmountable. It felt like this trip would finally go ahead. It would have been one with a short stay in the UK afterwards before heading off to Jordan, but that race was postponed for the third time making this trip to Germany all the more important for getting back to some sense of normality.
Where this now differed to previous trips was that I'd now need to carry proof of double vaccination, a PCR test from the last 72 hours, or proof of recovery. For entry into the country the NHS application was fine, but for the Berlin Marathon Expo they needed this to be in one of three applications. Of the choices available, only the Luca app worked for me. So with maps.me being used for offline navigation, that was now two application necessities where once upon a time there was none. How times change! I'd also need to have an FFP2 mask for use indoors, on public transport, and at train stations. I'd also need to wear it until the second I cross the start line of the marathon, so would need a reasonable supply of them. In the UK I'm still wearing a mask anyway, despite not needing to, so it wasn't a big deal.

I subscribed to updates on the UK Government website for travel advice to Germany so I could react quickly if I needed to. I also downloaded German applications for monitoring the 7-day incidence nationally, and by state. If this went over 100 in any of the locations I'd be visiting, then hotels would not allow stays for the purpose of tourism. At one month out, it was 58 nationally with an upward trend, and higher than that in Berlin and Hamburg. Any postponement now would have the potential for the marathon to be rescheduled to clash with Jordan. It was not looking promising at all; everyday I would watch the incident rate rise with dread. In August they announced the measures would no longer be linked to incidence rates, so it looked like maybe, just maybe, there was hope.
Packing List
Paperwork (photocopy of passport, printout of bookings, etc.),
FFP2 masks,
Canon EOS 5D mk3,
Canon EF 28-135mm f/3.5-5.6 IS USM lens,
Canon EF 50mm f/1.4 USM lens,
ND 16 filter,
Manfrotto Befree Carbon Fibre travel tripod,
Bluetooth adapter for DSLR,
MacBook Pro (Retina 15-inch, 2.5 GHz Intel Core i7, 16GB RAM),
Garmin ForeRunner 235 and charging cable,
2x CompactFlash Cards,
3x batteries for Canon EOS 5D (one of higher capacity),
Lens pen, and cloth for cleaning equipment,
Chargers for MacBook Pro, iPhone, and camera; along with travel adapter,
Electric heater element (for making cups of tea),
A collapsible bowl, spoon, and aluminium mug for marathon day breakfast,
Reusable sandwich bags and bag clips,
A bag of cereal, and snacks for use whilst out.
This one took quite a bit of thought. My priority was having everything I'd need for the Berlin Marathon. So this meant running clothes, jelly babies, and what I'd need for breakfast that morning to ensure I'm consistent with other race days. Beyond that, I realised that I'd be carrying my suitcase around a lot as I travel from city to city, so ideally having it as light as possible would be an advantage. With three days in Munich around the middle of this trip, it'd be a good opportunity to get washing done if needed, so I could potentially pack fewer clothes.
Late September to early October is around the time it starts to get cooler in Germany, particularly in the northern parts and there would be an increased chance of rain. So I'd need to pack some warmer clothes, and waterproofs just in case.
Technology wise, as most of my photography would be of landscapes and architecture, I decided that I could keep my camera equipment to a minimum - taking just two lenses and one body. One lens would be for everyday usage, and the other would be for nighttime photography - this meant ideally I'd want to take my travel tripod as well.
Since Brexit it means we can no longer take any meat or dairy products into the European Union. Not really a problem, but it's something to think about if I wanted to take sandwiches for the flight. They would need to be finished before arriving in the terminal. I also took reusable sandwich bags made from silicon so I could buy food from supermarkets, and make lunch for each day to keep costs down, and improve flexibility. It'd mean fewer chances to charge my aging iPhone 6S however, so a battery pack for that was a must.
I also bought some Apple AirTags - one for my suitcase, and one for my cabin baggage. These devices can be used to track their location from my iPhone, so should either go missing, I'd be able to find it. Quite handy!